Wildlife Storyteller Players are here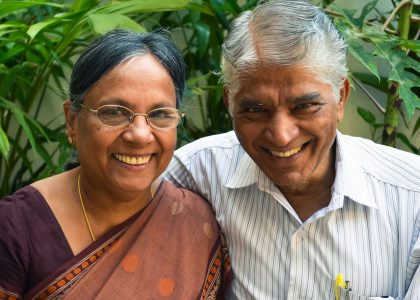 WCOI was started in the year 1980 by an evangelist who had this burning desire to help the many uneducated, and blind people to read God's word. He purchased a broken tape recorder for Rs 10 in a second hand shop and started to record parables and stories from the Bible. He would play the tape player in a street, and once a crowd gathered he would preach to them about the love of Jesus. He knew there was a need and he prayed and asked God to lead him forward. In 1981, he moved to Bangalore and rented a small building where he and his wife recorded the Tamil NT. This was the beginning of WCOI. Since then God has enabled Mr. Sundara Rajan, to travel to many places recording Scripture in Audio for the many people who cannot read and write. Today WCOI has recorded the Scripture or portions of the Scripture in over 90 languages in India. As I step into this new role, I do understand the need for more Audio Bibles in India. There are many more waiting to hear God speak to them in their heart language. Our staff here at WCOI are committed to this vision. We would like you to join us and support us with your prayers, and financially if possible. If you would like to partner with us do come and see us, let us work together in helping reach India for Christ.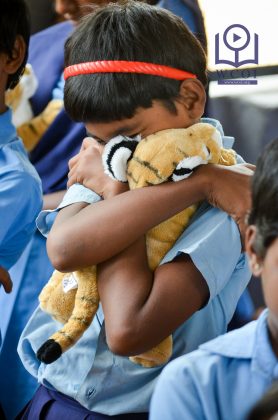 We are also excited to let you know that WCOI has finally started working among children by providing them with Stuffed animals that are loaded with players containing Bible stories. We are so excited about this project and I hope we can do more in the near future. The MegaVoice Wildlife Storyteller is a Stuffed toy (Elephant, Tiger, and Bear) that has a small pouch in the front. A small player called the Storyteller can be slid into this pouch. Each player that was distributed contains a compilation of Bible stories called "The God's Story" in the respective heart language of the children. We Distributed these players in Tamil and in Kannada. As the distribution was going on, We started to walk around the hall clicking pictures of the children. Many children hugged their stuffed animals, and had such a bight and beautiful smile. For many years WCOI has been distributing scripture and for the first time we are trying to reach children with Bible stories that will help them know more about the Bible and more importantly about our Lord and Savior Jesus Christ.
WCOI also distributed a few Audio Bibles amongst Pastors who minister in remote villages. Many pastors told us about the need for Audio Bibles in their churches. We told them that we will come back with more Audio Bibles for their members soon. Please pray for this need. WCOI is also planning on sending more players to Nepal. Our office in Nepal has been getting requests for more Bibles and we are planning to send them more Audio Bibles soon. We are also planning to distribute Audio Bibles in North East India soon. We are busy finalizing the dates etc. We have a few recording projects lined up and we would request you to pray for us as we work in finding the right voices for these projects and also the needed finances to record.

Our office in Bangalore had some major renovation work that took place. We are in the process of upgrading our studio. The old studio had to be torn down due to various reasons. The new studio will have newer equipment and will be able to produce high quality audio recordings. Please pray for the ministry of WCOI. There is still a lot of work that needs to be done. Pray that our Lord will give us the grace and wisdom to help reach many with His word in Audio. Thank you once again for your support towards the ministry of WCOI.