Nepal 2015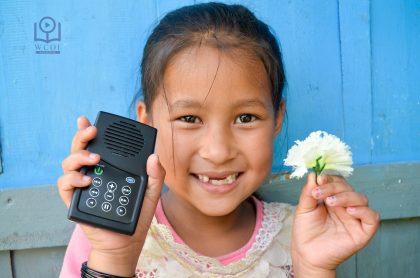 A few days ago, we had the opportunity to visit and distribute audio Bibles in Nepal. Recently, WCOI started a small office in Nepal by appointing our dear Brother Hari K C as the National Director there. Hari has been working hard and by God's grace, we were able to record the New Testament in Nepali and in the Mythili language. It was really wonderful to see the need that this beautiful country had for God's precious word.
We were able to visit and distribute scripture in a few villages and towns. We were happy to touch many lives by providing them with these solar powered Audio Bibles. In many villages electricity was inconsistent and many were happy that they could recharge their units via solar energy. It was such a blessing to meet and visit the homes of our dear brothers and sisters in Christ.
We left Nepal on Friday (April 24) and returned back to Bangalore that same evening. The next morning Nepal witnessed a powerful earthquake. Though our families and we were grateful that we were back with our loved ones, our hearts wept for Nepal. Images of all the beautiful people we met raced through our minds. We tried calling Hari, but none of the lines would connect. Finally at 8PM on Saturday, we were able to get in touch with him. Hari and his family were safe but were living outside their home in a tent along with the entire neighborhood. Hari's home survived the earthquake and we thanked God for that. When we asked him if he had heard from our friends who we had met during our time there, he said he will try to connect with them. The next day we called Hari and he told us that all our friends were safe. Praise God!. Some believers had lost their homes but were safe.
Initially our plan was to leave Nepal the day the earthquake took place. But the flight tickets on that particular Saturday were really expensive. We opted to leave a day early. Looking back, We are certain that God had a plan. We are glad God took us to Nepal and we are so glad that we were able to distribute the Audio Bibles to many people there. We are also certain that many are listening to these players right now and are being encouraged in the Lord. Many are being assured that God is in control. Please pray for Nepal.