Narikurvar's hear God's word in Audio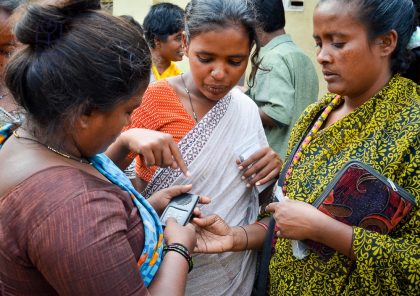 This past month, we took a few Tamil Audio Bibles and headed to a town 200kms from Bangalore. We had heard from a missionary that there was a need for Audio Bibles to be placed in a small colony of Gypsies. They are more popularly know as the Narikuravar. They basically hail from a traditional hunting culture. They hunt fox, tiny wild animals, and birds for survival and trade . They live in groups, speak unique language "Vaghridholi" and find their foods from selling beads and leather made craft items. Most of the population belonging to this nomadic tribe does not find a place or home to go after to after a day's toil. They make camp tents on roadsides and under the flyovers for stay. They also make tents as dwelling places to suit to the source of livelihood. You can read more about this community by clicking on this link.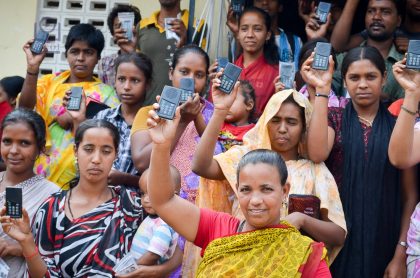 The community that we met have been settled in the same place for a few years. Sister Jean Jepegnam started working among them and many have come to know the Lord through her ministry. The community even constructed a small church in the middle of their settlement. It was wonderful to see how God is working amongst these people. Many people in this small community cannot read and WCOI placed 25 Audio units that was loaded with the Tamil Bible amongst these people. Most of them who received these units cannot read and write. They told us that this will be the only way they can now access God's word. We also met a young man who was physically challenged due to cerebral palsy. He loves the Lord and has been baptized as well. Unable to go to school, he spends most of his time at home watching TV or sitting outside his home. He was so excited to get an Audio Bible. He was happy that he did not have to depend on anyone to come and read the Bible out loud for him. It gave him a sense of independence. It was wonderful to see his excitement.

We also distributed a few more Audio Bibles at an Old age home. Many of the residents at this home come from poorer backgrounds. Many cannot read and write and some of them have a failing eyesight that makes them unable to read the Bible. One lady came up to us and thanked WCOI for helping people like her who cannot read. She said that she had been praying for many years for some one to record the full Bible in Audio. She said it was an answer to her prayers. What a blessing!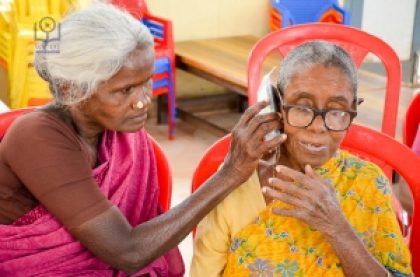 WCOI also shipped a few players to Nepal for distributions. We have already started hearing very good reports from the distributions that have taken place. I will be traveling to Nepal in April for a few more distributions. We are running low on stock as most of the Audio Bibles have been distributed. Please pray for this ever growing need for more players in India and Nepal. We also have a distribution among a tribal group called the Kukna in April.
Please pray for us as we travel to these places to place Audio Bibles in the hands of our many brothers and sisters. Thank you once again for your partnership and friendship towards the ministry of WCOI. May you be blessed