Leprosy Colony Distribution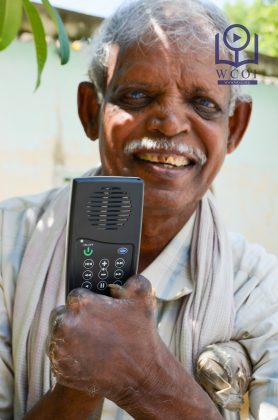 Last week a few of us went for a distribution in the city of Tirupati in Andhra Pradesh. We received a call a few months back asking us to provide players at a Leprosy colony in Andhra. We were informed that there are 2 colonies that are 40kms apart from each other and both these colonies had a good number of believers who meet at a small church that was buildit inside these colonies. Many of them could not read and write and they wanted the Telugu Full Bible in Audio
We carried 100 Audio players in Telugu and headed to this colony. We first visited a colony that was located in the city of Tirupati. Most of the people living in this colony beg on the streets and on trains to earn their living. Many of them have been severely affected by Leprosy. Although they have been cured, its scars have left them with no fingers, toes and in some cases blindness also. Although they all own a Bible, they cannot read. One person told us that he found it difficult to turn the pages of his Bible as he had no fingers. We had a wonderful time meeting with these lovely people. They were filled with joy the moment they received the Audio Bible. We distributed 30 Bibles in this colony that has 50 Christian families.
We later moved on to another small village that is located 40 Kms from Tirupati. Many of the people living in this colony came to a Leprosy hospital that was located close by for treatment. The hospital closed down and most of them settled in the jungles close to the hospital. Many of them refused to go back to their homes due to the stigma attached to this disease. Almost all of them in this village have suffered because of this dreadful disease. Most of them do not have any fingers and toes. Some of them were blind. Many cannot read and write. Many of them have faced a lot of rejection from their own families and have always been looked down because of their appearance. The whole community is now involved in farming and they work on the fields together. Over the years the Government has given this settlement to them and they have been farming and producing crops for their livelihood. 90% of the people living in this village are Christians and they love the Lord with all their heart. It was such a blessing to see them sing praises and worship God. The moment we introduced the Audio Bible, they were filled with joy. It was as if they had found a long lost treasure. Many walked up to our team and expressed their gratitude to many of you who have helped sponsor these Bibles. They also promised us that they will be praying for all of us each time they switch the player ON. Around 60 Bibles were distributed in this village.
Many of them told us that this was "The Best Gift" that they have ever received. They told us that this gift will encourage them, nourish them spiritually and also give them the peace they need in a world that has rejected them. Another man added that it also helps them look forward to a life that is eternal and where there is no sorrow, pain or suffering after this life on earth is done.
This distribution really encouraged us and blessed us. Many of you have helped sponsor Bibles for people like them and we thank you for all that you do to help WCOI reach many more who will otherwise never hear God speak to them in their heart language. Many more wait to hear God's word in Audio.
Please pray for these beautiful people. We love them in the Lord and hope to go back with more Bibles soon.