Kukna's now have an Audio Bible
A few weeks back we had the opportunity to head into the Teak Jungles that is situated in the border of Gujarat. I had the privilege of carrying with me 400 Audio Bibles loaded with the NT of a language called the Kukna that is spoken among a tribe called the Kukna Tribe.
The recording of this NT was done last year and we were unable to make the trip any sooner as we had other commitments. Indian Evangelical Mission (IEM), Bangalore played a vital role in helping us find the right voice for this recording. Their missionaries have been serving amongst this tribe for many years. It was a blessing to see how these missionaries were loved and adored and accepted into their communities as their own. We thank IEM for helping us with the recording and also the distribution.
 
It was also a blessing to be a part of their annual convention. The Audio Bible was released in this convention with more than 500 people in attendance. The Audio Bible was blessed and prayed for by all the missionaries who gathered for the event. Many older people of this tribe have never had any schooling and are unable to read. Since many of them live in the jungles, it is also hard for their children to attend regular schooling. In other words, for many people this was the only way they could access the Bible in their heart language.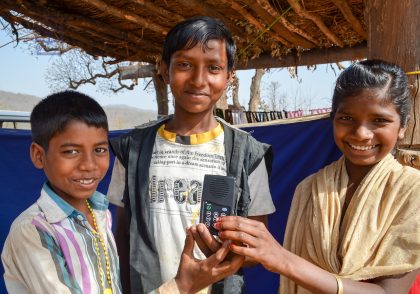 The next day as we walked through the village, we heard almost every home listening to the Audio Bible in their small one room huts. It was such a blessing to witness this. It was a blessing to stay with them and eat with them as well. We thank God for giving us this wonderful opportunity to help take His precious word to these people. I told the Kukna people that God loved them so much that he blessed them with a Bible in their heart language. I also told them that God wanted them to read His word and also share it with everyone in their tribe.
 
Thank you for all your prayers. Many in India are being blessed by these Audio Bibles that are going out from our office, and into the hands of the people who need them the most.