Joy amidst the scars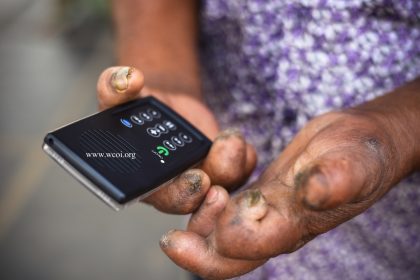 Located a few KM away from a Town in Andhra Pradesh are 3 small Leprosy colonies with 150 families. Most of these families have members who were severely affected with Leprosy. Although Leprosy has been cured, it has left behind scars that make most of them dependent on their families to care for them. Many cannot read and depend on someone to help them read. Most of them living in this colony are beggars.
About a year back we received a call from a gentleman who worked among these people. He requested us for audio Bibles and told us about the need in this colony. We prayed for this need and hoped that some day we will be able to visit them and bless them with the audio Bible.
In April we were able to finally visit this small colony with 150 audio bibles. It was a wonderful day as we witnessed the joy of the Lord on their faces. Many of them told us that they had been waiting for this day for a really long time. Many of the people in this community usually travel by train or bus in order to beg and are often away from their families for many weeks. They often had the desire to read God's word but could not. The only time many were able to access God's word was when the local pastor visited them on Sunday's. 
We at WCOI have often witnessed how much people long to hear God's word in Audio. For many who cannot read the bible, it helps them draw closer to God. WCOI can only distribute these Bibles in limited quantities and only to seekers. Please pray that we will be able to distribute more Bibles. Many in India wait to hear God's word in Audio. There are many more blind and leprosy people who are unable to read the Bible as they cannot read His word. The Audio Bible is the only way many of them have access to God's word in their heart language. 
Please continue to pray for us as we look for ways to help many hear God's word in Audio.