Distributions in South India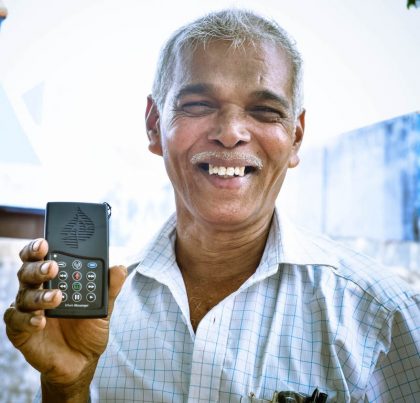 WCOI recently partnered with Dr. Charles Stanley's InTouch ministries to distribute InTouch Messenger players in India. Last month we started our first InTouch Messenger distribution among Pastors in Tamil Nadu, India. So far this partnership has enabled us to reach many pastors. Most of the pastors whom we met work in remote villages in South India were so happy to receive the InTouch Messenger. Many of them stayed back to tell us how much they longed for a resource tool like the InTouch Messenger. Many older pastors came by and shared with us the need for more Audio Bibles for their members as well. One lady who works as an evangelist told us about her failing eyesight and wondered if there was anyway she could still read her Bible. She told us with a lot of excitement and big smile on her face as to how much the Messenger will help her. She told us that she was just too happy for this precious gift. WCOI has planned for more distributions in the near future. We are hoping and praying that many pastors will be equipped with this amazing InTouch Messenger. 
WCOI also had a wonderful distribution in Kakinada -Andhra Pradesh, among Telugu speaking visually challenged people. This distribution was conducted by WCOI with the help of local christian leaders working in that area among the visually challenged. Nearly 43 visually challenged people received the Telugu Audio Bible. One of the leaders told us that they were waiting and praying for these Audio Bibles for many years, because this was the only way for them to know and read scripture. Many had to depend on others for read the Bible For them for so many years. As soon as they received these Audio Bibles all of them started listening to the word of God almost immediately, its was such a joy to seem them so excited and happy. The very thought that they can now listen by themselves at any time and place made them so excited. Many told us with tears in their eyes that this was the best gift they had ever received. They thanked the Lord and WCOI  donors and partners from the bottom of their heart for giving them these Audio Bibles. We were blessed to witness these scenes and it is our prayer that many more visually challenged people in India will be blessed with the Bible in Audio.