Auto rickshaw drivers and many others equipped with the Audio Bible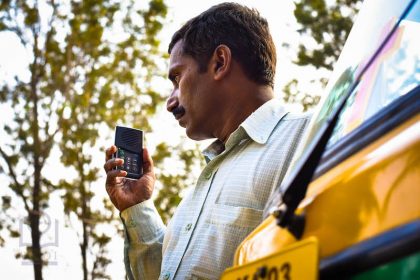 WCOI was busy during these past few months with many distributions. Our month started with a distribution among Auto Rickshaw drivers who are part of a prayer fellowship here in Bangalore. If you live in Bangalore, you would understand how much we in this city rely on these Auto Rickshaws, and at the same time how much we would like to avoid them if we could. However, the Auto Drivers we met wanted to make a difference. All of these drivers know the Lord and are passionate to use their vehicles to serve him. All their Auto Rickshaws are filled with Christian Literature and Tracts. The outside of the Auto has verses from the Bible that is sure to encourage anyone who reads them. They do not overcharge and have been very kind to people who travel in their Auto rickshaws. A few months back I met one of these drivers and asked them if the Audio Bible we distribute will be useful for them. His eyes lit up and he was so happy. He said "Brother, nothing will make us happier, we can listen to God's word when we drive and we can sloe make our passengers listen to it as well. Am sure if even one verse from the Bible can go in it will change lives. Please come and give us these Bibles." I was so overjoyed to hear this. So we went to their prayer meeting that was held in a small room. It was so good to see over 30 Autos with lovely verses written all over them parked by the side.
Recently, I was returning home on my scooter and was held up at a traffic signal. Looking up ahead, I noticed an auto with all the verses and I slowly made my way up to him thinking he may have come for the distribution. Standing beside his auto rickshaw I looked inside searching for the player. I saw the player sitting right in front of him and yes, he was listening to it. I took my helmet off and the moment he saw he he recognized me and smiled. I told him I was so happy to see the player being used. He told me that it has been a blessing to him and he has been listening to it all day and it has helped him stay tuned to scripture even if he was busy driving. Praise God!
I also made a trip to Churchandpur, Manipur to release the full Bible in Gangte. The Gangte community marked this event as a very signifiant event in their church and honored the work of WCOI. They were so happy that the full bible was now made available for their community. There is a lot of political unrest in this town. WCOI is working on recording a few more languages in this area and we request you to kindly hold the people living in Churchandpur in your prayers.
WCOI also distributed over 300 Audio Bibles among the Kukna speaking people who live in the border of Maharashtra and Gujarat. Last year we distributed around 200 and this year the Indian Evangelical Mission (IEM) team wanted us to bring back more as there was a great need for these Audio Bibles. It was wonderful to take part in their convention and see the fruit of their labor. Over 500 people attended this meeting and this community was so passionate to worship and serve God in the best way possible. IEM missionaries have labored hard in helping this community know the true God. It was wonderful that we could partner with IEM and help equip this community with the Audio Bible in their heart language. We also visited a few children homes that were also run by IEM and distributed Wildlife Story Teller players. For many children this was their first toy. They were so overjoyed to see a toy that they can not only play with, but a toy that can also tell them stories. It was so wonderful to see the bring smiles on their faces.
WCOI also had the privilege of visiting a home for children in the outskirts of Bangalore. We spent some time with the children singing and praising God. We blessed all the children here with the Wildlife Storyteller dolls. It is always such a joy to see these wonderful children start enjoying the toy and the player as soon as they receive them.
The year ahead looks very busy and we kindly request you to pray for us as we stay focussed in taking God's word to people who need it the most. We have been able to establish vital partnerships with organizations in India and around the world that help us in getting His word out. This year our target is much bigger and we know that God will provide all our needs as we look forward with hope. We have also planned many recordings as many people still wait for God's word in their heart language. Many visually challenged people and Leprosy patients have been in touch with us requesting us to provide them with the Audio Bible. Please do continue to pray for our staff and their families. The need for Audio Bibles has only increased. Pray for us as we try to get His word out in Audio amongst the people who need them the most!