Audio Bibles for the Blind in Gujarat
Two years ago we received an email from a dear brother by the name of Shantijai K from a ministry called Serving friends foundation in Gujarat. He requested us to produce the full Bible in Gujarati. He said that there were close to six lakh blind people in Gujarat and for many this Audio Bible would be the only way they could access the scriptures. We emailed him back requesting him to help us find some one who could help us with this recording. Most times when we ask people who email us requesting us for a new languages, we usually ask them to help us find someone who could help us. Most times our conversation stops right there. It is not easy to find people who will be willing to give us their voice and time to do the same. Bro. Shantijai did not stop, he went ahead and connected us to the director of Jivan Sandesh Ministries, Mr Madhu Christian. We got connected and soon we completed the full Bible recording of Gujarati. Praise the Lord.
Last weekend, we travelled to Gujarat to hand out the first copies of the entire Audio Bible in Gujarati among the Blind. This was also the first time we met Bro. Shantijai as well. What a joyous occasion it was! 65 blind people showed up for the meeting in spite of the chilly weather. We distributed 40 Audio Bibles to them. We made sure that it was only one Bible per family as we wanted people who missed the distribution receive their units as well.
The joy on many of their faces was so priceless. It was such a blessing to meet with them and understand how important it was for them to carry their Bible with them. Many once again emphasized how difficult it was for them to carry or store the braille bible. They love the Braille Bible but these factors made them read less. The full Audio Bible will now help them carry their precious Bible anywhere. Many who came were so happy and thanked WCOI for helping them hold a Bible in their hands. It sure was a blessing for us to witness this joy.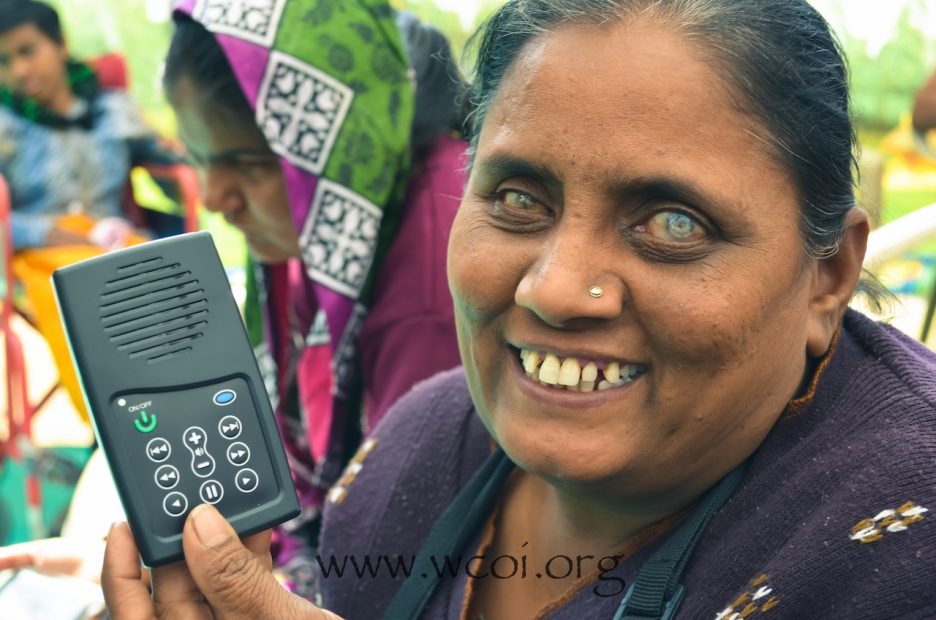 We appreciate your prayers, and request you to keep praying for us. Thank you so much for all your support and for partnering with us in the gospel.